LG: Well, how did you get into solar design?
AA: Around 1990, I'd gotten very active in the IDSA [Industrial Designers Society of America]. I started to volunteer for things and pretty soon I was chair of the New York chapter. At the time, I was curating shows. One of them wa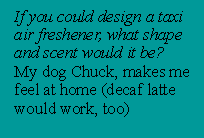 s for the MAS [Municipal Art Society], called "Garbage Out Front" and the section I curated was about using recycled materials. It basically got me trying to find examples of work that didn't exist, or when they did exist, they were not esthetically interesting. I had sort of felt that my skills were more about networking and bringing people together, and looking at other people's work, and it really wasn't until this show that I started thinking about solar and thinking that I had something to say visually. And because, who else was gonna do it? (laughs).
DB: So, were you into the environmental part of it before you joined IDSA, or did they bring that to you?
AA: I guess it had probably always been part of my consciousness, but it had never been part of my work. And, y'know, I was a design advocate, but part of me thought that this whole thing of making corporations more competitive, making America strong through selling more products – through competition -- there was something that wasn't ringing true for me (laughs). And the environmental thing gave me more of a reason for what I was doing in design.
DB: And you just said, "who else was going to do it?" It's a good thought because solar power isn't often thought of as an art form; we tend to think of it as a technology.
AA: The truth is, solar has got to become more of a thing that people become more comfortable with...or think [that] it's exciting and sexy; it's got to be at the same level.
LG: It's got to be high design.
AA: You don't get the same sort of money going into the design.…it's not the [kind of] money that Sony's putting into their design.
LG: How does that approach play into your work?
AA: Right now I'm working on a controller, which is a piece of equipment, for the NY Energy Research and Development Authority [NYS ERDA].
DB: It's one of their cost sharing programs?
AA: Yes. It would be a consumer oriented "brain" or circuit board of the system, that takes the energy from the solar panel, and either puts it into the battery or directs it to the load.
DB: That sounds more like electronics design than product design.
AA: But it's very much [about] user-interface. And right now, the ones that they have on the market are very primitive. They have these items where you have to strip the wires, and screw things in, and things that consumers don't really want to do. I mean, I don't want to do those. (laughter)
DB: Is this the equivalent of designing the box that holds all of the computer stuff? Like, designing the I-Mac, but not designing the hard drive?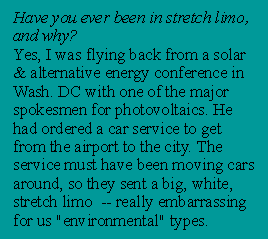 AA: Exactly. One of my earlier products...was a microphone for the Macintosh, and I didn't design any of the circuitry -- just a really nice case. And there's always been resistance from these solar guys, who've been doing this for 25 years, who say, "you're not doing anything new," but, from my point of view, just making something consumer-friendly…
LG: And accessible…
AA: Right. That you could plug your cell phone into it if you want…or recharge it if you want.