The Light at the Middle of the Tunnel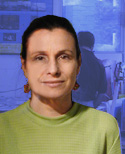 Weaned on rock concert lighting in San Francisco, Leni Schwendinger abandoned Haight Ashbury in the early 80's for the new art frontier of TriBeCa, discovering in the process that there was more to lighting design than counting lumens. Lighting has become, for her, a public realm extending into community activism. Her canvases now are dark urban spaces and long tunnels – and where better to find these than in the concrete of New York?


State(ment) of the Art:
Putting Design on the Table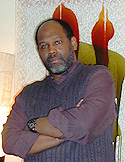 Tony Whitfield is a designer who merges his art with his conscience. Starting out as a fine artist, he finds that there are equally strong statements to be made in the design world. Working with a company -- run by a woman -- in Guyana, Tony is designing sustainable furniture which will soon be found in Aveda stores across the country.
His accomplishments notwithstanding, Tony laments the interconnected and self-perpetuating inner circles of the design world. And as chair of Parsons School of Design Product Department, he helps guide the emerging talents that may break - or break into - that world.