SE:[Those are] testy waters, because, for Bill T. Jones, the name "Ghostcatching" isn't just the title of a piece; it's about taking his soul, because when he worked with us, he felt he was breaking a taboo, that dance is really about your space and time and your body and that moment, and recording it is anathema, and it offends the "great goddess of dance"…and, y'know, it was during those capture sessions that he said, "what you're doing here, is a kind of ghostcatching."
DB: He generated that name?
SE: Yes. And he was also rather defiant. He started by saying, "I wager that anything that I can do with my body is far more interesting than anything you can do with that computer." And indeed, as he danced, he has this liquid esthetic, and he has this real presence, and y'know, sensors were popping off of him, and our data looked terrible when we first began.
LG: You're now an artist in residence with the Lower Manhattan Cultural Center in an unusual work space up in the World Trade Center. Is this influencing your current work?
SE: Our next piece is going to be specific to New York. It's about New York pedestrian life, and part of the homework for that is walking away from my computer, moving through the city, and observing how people really move. We intend to get beyond the virtuosic movements of dance, and into the dance of everyday life.
DB: Is this a collaboration also?
SE: This is a collaboration with Paul [but] it's going to be our first collaboration without a famous choreographer. The idea here is to make a piece of public art. You imagine a digital crowd of New Yorkers, little tiny people, and you see them from above, as though from the top of a tall building, and you start to get a sense of this crowd, almost the way you think about ants or a beehive. The colony has its collective fluids; it's a single organism.
DB: There's a film you should see. It was made by a sociologist looking at the way pl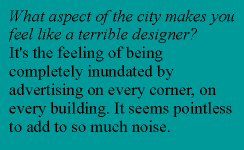 azas in the city are used. There were shots from above, as you were talking about, and some timed sequences over the course of the day, looking at the types of interactivity.
LG: It was by Holly Whyte [William H. Whyte] and we saw it recently through the Municipal Art Society. It was all about things like, where do people sit at these plazas; why do they sit at some plazas, and not at others? What times of the day? Which ways do they face? It was very interesting, and very much about clusters and people moving as a whole unit…
SE: They've also done studies at Grand Central Terminal, and they've found that there are virtually no collisions. Recently, I read in Discover magazine about architects designing around catastrophes. In the tunnel to Mecca, thousands of people have gotten killed over the years from the stampedes. And in soccer games. And they're working to study the locomotion and the psychology of these crowds in order to figure out where to make the release, where to break those stresses, so that people can 'leak out.'
DB: Your project sounds like a fantastic study.
SE: Except ours is total fiction…
DB: Is it?
SE: It goes back to fiction. Our work does seem to parallel some science fiction.
LG: How so?
SE: In that article, they found that the reasons for these catastrophes had almost nothing to do with human psychology, it was just physics; it was about flow. Modeling human psychology is so tricky, it's more likely you're going to come up with a physical explanation. If you are watching the animation, you'll see a bunch of little figures and their shadows moving around. And of course, we'll have women who've just come from Fifth Avenue, shopping, we'll have businessmen, we'll have punks, we'll have bike messengers; each of the little characters is a body I'm building, and I intend to model both of you…
LG: Yay! I want to be in this! What should I wear? (laughter)
SE: The image is going to be projected; [perhaps] from a street lamp, onto the ground. And with a rather high powered projection, it will make a large rectangle of light the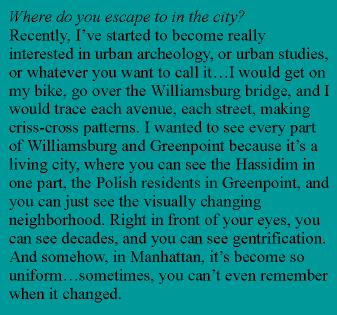 re. I suppose each figure would be about the size of a salt shaker. And, being a public work, outdoors, it's something you would chance upon while coming back from work and you'd see this strange apparition on the street. Our idea is to have this outside a gallery or a museum setting and to hit four different locations in New York representing four really different neighborhoods.
In some ways now, we're beyond the issues of control or choice vs. chance because, at some point, it's so complex. How are you, as a single person, even as a choreographer, going to design the movements, the collisions, the conflicts, of hundreds and hundreds of characters? And this is where we've had to study a bit of science – computer science areas like flocking, as in flocking of birds, where they do biological simulations [of individual and group behaviors].
So we start to build up all of the rules and all of the behaviors into this system and, instead of a single person designing this system, you just let it go. The end result is you've designed something which you could not have micro-managed; something emerges which has a mind of its own. Let's say you imagine, "what is a crowd formation, in NYC, during the Halloween parade?" [and] "what is the crowd formation in a Busby Berkley film, when everyone's dancing?" Can you, in a computer, take a Busby Berkley film, and put it next to the people in the Halloween parade? How do the two start to pollute each other? How does one turn into the other? What happens if someone screams 'fire?' Does that ripple through all the entities? Suddenly, you start to invest human psychology into all of this activity, and it gets to be very, very strange. And, that's where I feel like, though we may start with the study of real crowds, it's going to be a work of pure fiction.
DB: With some chaos theory thrown into it. (laughter)