SE: I can't picture spending more than a few weeks or months out in another location because I'd probably go quite batty if I were out in the country for that long a time. But I could see doing it as a kind of writer's retreat.
DB: But you talk about different levels of isolation, going out there in orde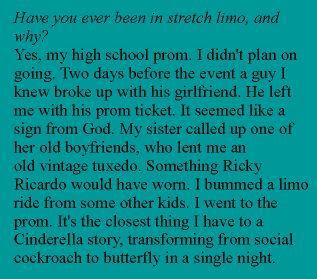 r to work in isolation, and yet you've talked about people forming groups out there, to counter affect that isolation…
SE: It's a commune…
DB: Right. And then what you're really doing is trying to take a piece of the city to the country.
SE: Well, is the city the architecture and all the great restaurants…
DB: No, I'm talking about the community…
SE: The idea of a country studio: that's kind of shrugging at community, and that's saying: I need a more humane, solitary working process, because even though in my computer are the end products of a lot of collaborators, it's still a lot of solitary work, and I've often thought that it might be healthier, to be closer to nature, and a little more in touch with my surroundings. Ironically, at MASS MoCA, I met some digital artists, who had bought a place in Vermont, and were spending about 3-4 days of their week, doing their projects there.
DB: A group of people there?
SE: About three. And so, there I am, out in the Berkshires, and I've now met some of the most interesting New Yorkers I've met in a long time, and they are out in Vermont. So they are still interested in bringing the community with them. They want both. They want the community, the exchange of ideas, but they also want some kind of nourishing environment for their bodies or their souls, whatever it is they are getting in the country. But they don't want to give up community.
DB: Which is what the Hamptons, say, in the '50's, were about.
SE: I live right around Union Square. I find that, as a good antidote to isolation, since I do so much work alone, a little walk to the Union Square farmer's market is a nice reminder of the smells of upstate. And it's such an obvious pleasure that people are taking there, not only shopping, but looking at one another. So I have this sort of idealized pedestrian space there. I don't go there to get ideas or anything, but I do go there to kind of cherish public life. I love public space.
LG: It's funny, because it's a way of taking you out of Manhattan, but you are very much in Manhattan.
SE: It doesn't feel like a competitive space where, say, everyone's pushing through the subway trying to get to their goals. And it's also without barriers. No signage, except for the prices of fruit and so forth. Now, for someone who talks about isolation, I'm incredibly guilty of being 'self-employed guy,' who goes completely off peak. I only go to the supermarket when I know that there's no one there.
DB: That's one of the great benefits of being self-employed.
The irony I'm seeing in this is, you were talking about the fact that you work a lot, in isolation, and so therefore, you could be out in the country, because you might not need the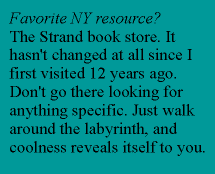 interaction…
SE: I might as well be.
DB: And yet, because you work in isolation, you find you have the need to do something like go to Union Square, just to bump into crowds. And therefore, you couldn't be in the country, because you wouldn't have that.
LG: Well, you have farmer's markets and things like that in the country.
DB: But not the density. We started on this by asking: where does the digital artist need to be?