LG: This space is very "gallery-like," and it feels so organized. But I know, when it's in your space, where you are working, the toys just take over…
JEH: Definitely.
DB: You spend a lot of time in Japan…is it mostly researching toys, buying things for your store, is it about the clothes…
JEH: I have distributors in Japan for the clothing, that buy a certain amount per season, and it's their responsibility to spread it out in the good retail stores in Japan, so I go there a lot to meet with them, approve design, look at stores, things of that nature.
DB: Are your designs sold here, or there?
JEH: There, mostly. I'd say 95 percent.
LG: It's interesting. Do you think it's about Japan's sensibility, or the way that the clothes are marketed there?
JEH: It's very easy for someone like myself, to make it there, rather than here, because I'm from here. A lot of it has to do with the fact that I'm from New York, and a lot of it has to do with a certain market; a target market. I'm kind of a minority/street designer.
DB: That's interesting to me, because your product sells largely over in Japan, but it's important that you be from here, and you actually work here, and it wouldn't make any sense for you to be working there.
JEH: New York does have a lot to do with me, [with] selling my work in Japan. And the fact that I worked in clothing stores like Union and Surplus, managing those shops, has a lot to do with it, because the Japanese follow those type of markets, and they know who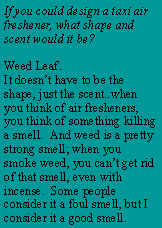 I am because of that. And that's why it was a little easier for me to start something and cross over into clothing.
DB: So, are most of the toys bought in Japan, or are they from here?
JEH: Well, both…
DB: …It's interesting, because your trips to Japan are dual-purpose.
JEH: …And it's also inspiration. Definitely multi-purpose. I do business over there, it's pleasure, but it's also inspirational. That's how I first got into collecting toys, going to Japan.
DB: So, while the inspiration for the toys is from Japan, inspiration of the other things you work on, like the clothing, is from New York City?