LS: The Vespa was red, the pick-up truck was white and the futon was purple.
DB: Must have looked great in the back of the truck. So this was with no specific projects or work lined up?
LS: Right. (laughter)
LG: So, what happened?
LS: My big goal in life had been to be a cinematographer. I had gone to the London film school – we're talking '73 now – but hadn't the wherewithal to do what you needed to do as a female at that time You could really count the number of female cinematographers on one hand, and most of the women who were in television and in film were very, very corporate, and I wasn't.
DB: So, your first project here was working on a film?
LS: Yeah, it was lighting a club scene in a film. Remember music videos when they were new?
DB: And we were wondering what they were for? (laughter)
LS: But, thinking it was great – if you were in my world, it was the greatest, newest, abstract...

DB: A new genre…
LS: A wonderful new genre. But my real break was Laurie Anderson.
LG: How did that come about?
LS: Just how everything comes about (laughter). I just remember vividly, my interview, slushing in the snow, to her loft on Canal…
DB: It wasn't late one night at the Mudd Club? (laughter)
LS: No, no, it was a real live interview, and she hired me on the spot. With the caveat that it wasn't a collaboration, and that, y'know, I was basically doing lighting so that her projections could be seen. She hadn't had a lot of luck modulating that foreground lighting with the projection she was doing…
DB: So, you were really doing only the technical end of it and the lines were drawn?
LS: Yeah. She was making it very clear, which I appreciated. She was a great, great role model, and it was an incredible experience, going on tour. People still remember that concert tour – people who know about lighting. It was pretty unusual. I got to use some cutting edge technology in interesting ways that you don't really see done today, even though that technology is [now] so mainstream. So I learned a lot and she was quite supportive. After that, I really decided that I was an artist, and that, she could invent an art form, and so could I.
DB: So being on the technical side of an art project convinced you more that you wanted to be the artist.
LS: Yeah, and I'd earned a bit of money, and I could just stop accepting commercial gigs…
LG: A lot of us dream about that. (laughter)
LS: And, for a little while, I could actually just stop. So my first project was this sand sculpture that I'd always wanted to do, and it was a big white sand landscape with projections, and it was shown at the Alternative Museum. That was in '85, '86. And then someone from Emilio Ambasz's office saw the work, and I got a commission from Emilio…
DB: I could see that being a perfect collaboration with his earth related work…
LS: It was great. It was my first commission, and then I met his right hand guy, Mark Robbins, who's now head of the NEA design division [and] a good friend.
LG: The interconnections of work here are often interesting, and I'm wondering if San Francisco was a similar experience that way? Did you have these serendipitous experiences?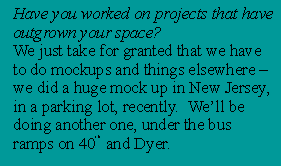 LS: I think that they probably do happen in San Francisco…
DB: Probably because it's smaller that happens even more so, but it's also a matter of "who" you're going to bump into.
LS: (laughter). Right, there is a qualitative difference…
DB: In San Francisco, you might have ended up doing lighting for a Grateful Dead concert, as opposed to a Laurie Anderson performance piece, though I might be stereotyping just a little...
LS: Yeah, it was a definite direction in terms of quality, challenge, the thought process....I don't know if it has anything to do with competition in NY, it probably does. New York just really compelled me; rather than [just letting me] be comfortable.
DB: The other difference that strikes me in moving from the technical side to the art side and, at the same time, moving from theatrical to architectural is it's also a difference in the permanence of the projects…
LS: Well, that was big; that was big. Because I always wore the temporal badge as a virtue, that the sense of the ephemeral was actually built into working with light, to the movement of light.
DB: Did you consider that a positive aspect? Are the architectural works more intimidating because they're permanent?
LS: No, I just simply thought – being a theater person – that [temporary installations] were better and more valuable. I probably was also just trying to buck convention, because everyone else thinks that permanent is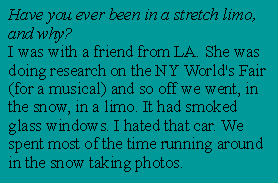 better, because it's "there." But now, I think there's a place for both, and I pretty strongly see that.
DB: With the permanent, can you take fewer risks – because of its permanence?
LS: I think that totally depends on the commission. I can give you my definition of "artist" and "designer" which would probably help the question of temporary and permanent. A lot of people in a similar vein, ask me if I don't think that doing design work is a kind of "selling out" from doing artwork. Young people ask me that. (laughter)
And, basically, the way I had to find peace and understand the "worlds," because they ARE different, was deciding that the artist is an author of their work -- you have to take complete responsibility if you're absolutely an artist. You pick the site, you pick the medium, you pick the content – you basically author the work totally and completely. Now, all the way at the other end of the scale, the site is assigned, the form is assigned, the purpose; go down the line. These things are given to you as a challenge to fulfill and, ultimately, for lighting designers as a service. I did a project in Glasgow, where they said, "Find a site. You pick it." There were some restrictions, but an awful lot of openness in defining the project…
LG: So you were hired there as an artist, as a "thinker."
LS: Totally. In that case. And then there are other times [when I am more of a designer.] There's a beautiful project that we're doing in Seattle, where the architect has created a procession of absolutely huge scrims. They're 30 foot by 70, metal mesh scrims that are gargantuan; a very stark progression of these scrims over a promenade, and it was our mandate to light them somehow. There was a whole long collaborative process. The solution is so sublime, it is so absolutely right for the site, and it's absolutely simple.
DB: What's the project?
LS: This is for the Seattle opera house. It's so simple, it's almost like, "well, gee, anyone could have done it." In a way. But it is so wonderful that it feels like art to me, and that was an "art" commission. And yet, the restrictions put it somewhere in that gray area.