LG: People are amazingly closed-minded, when it comes to picking the "visionaires" of the moment.
TW: And they are ungenerous; they are extraordinarily ungenerous about people who don't fall into their immediate circle.
DB: Do you think that circle extends to the press as well?
TW: Yes.
LG: One of the reasons we wanted to start "Visual Seltzer" is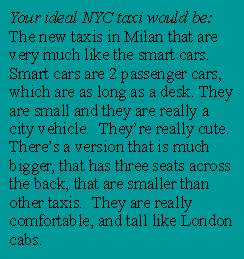 that we were tired of the same people getting coverage over and over. I have had so many discussions about that ICFF / MoMA exhibit...there were no women, no people of color, and some of them may be very talented, but...
TW: Another startling thing is, not one of those 28 men said, "I don't want to be in this." The more powerful of them could have said, "I'm tired of this," and send out a press release and say, "based upon this kind of line up.."
DB: Assuming that they knew who else was in the exhibit.
TW: They knew. That show had been floating around for a long time.
LG: Well, that's an interesting question. Should people say, "Who else is going to be in this? What are you representing here?" When I worked in the fashion biz, the same type of thing happened, where, there were a handful of people being covered, and it wasn't exactly diverse.
TW: Exactly. And there has to be a point where someone says, "y'know, I don't need this; I have enough going on; I don't need to be in this show."
DB: It would be more interesting if they had those people pick someone else, as a designer who they respect, or they feel represents something.
TW: I don't think that's really the issue. Because the wise ones among them will choose the politically wise person.
LG: As opposed to a more interesting or "risky" person?
TW: For [someone like] Karim Rashid to say, "I don't want to be in another all-white male show," you know, it suddenly becomes fodder for all sorts of articles and a discussion of his principles. The thing is, it's often said about this "group"and this "circle" that they are the ones who are doing the interesting work. And that they are the ones who are the important designers. Truth is, that a lot of the ability to do interesting work comes from having opportunities to do it.
DB: To be encouraged?
TW: To say that your work is interesting, and to push you forward, and to set new hurdles, and to create new opportunities. But if the opportunities are kept to a limited circle, it has the impact of destroying careers. And removing people from the picture.
DB: By bypassing them...?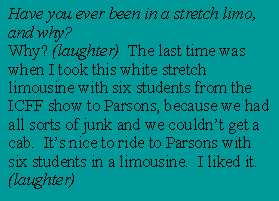 TW: Right. And, the editors take part in this and it's such a small circle. The magazine Wallpaper, which has so built it's reputation on this "global perspective," has done a really interesting thing. In a recent issue, there's a double page spread, in typical Wallpaper fashion, of all the people who work at Wallpaper, and there is one face of a person of color in that entire spread. Which I think seems ok to them in that it is a way of reflecting how glamorous they are because all of their people who work there can be drawn up as "pretty" people. And you've got to wonder, [with] a company like this, who could pull anyone from anywhere to work there, they could pull from the talented and trendy, and yet...it's not happening.
DB: Do you think it reflects the design world as a whole, or the magazines?
TW: I think it reflects the design world as a whole.